WR COMPOSITI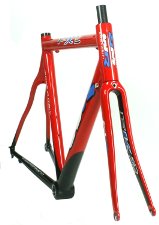 WR Compostiti have been producing carbon fibre bicycle components since 1992. The company history began with the creation of the world's first carbon fibre stem.
In creating their carbon framesets and components WR do not use any readymade pieces. The raw materials used by WR are specifically created for them by certified sources.
WR frames aren't just made from the highest quality materials – all framesets are made to measure. The anatomical features of the customer, the intended use and personal preferences are all teaken into consideration by WR when creating a bespoke bicycle frameset.
---
Refine Search