MARCHISIO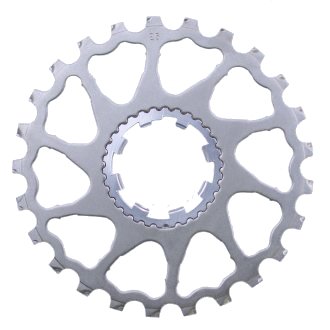 It is with deep regret that I must inform you that the company Marchisio Engineering SRL have ceased operating since they went into liquidation.
At the moment it is not clear if a successor will continue making the multi-compatible sprockets.
I would like to thank all customers who have supported Marchisio over many years.
My sale goes on until stock lasts.
Marchisio cassettes have a central place in our products.

To describe the greatest advantage of Marchisio with one word, versatility suits.
Marchisio cassettes can be adapted to all 8, 9, 10, and 11 speed gearshift systems. Furthermore they solve some compatibility issues if you want to pair a hub with a foreign group.
By heat treatment hardened steel gives Marchisio cassettes a long mileage.
A wide range of sprockets from 11 up to 30 teeth let you customize the gearing to your needs.
10 speed and 11 speed cassettes are based on the MTK system. All MTK cassettes just have two hub specific sprockets in the 2nd and in the last position while all other sprockets are being connected to the hub by adapters. MTK adapters also accomplish the appropriate spacing.
To cover 8 speed and 9 speed Marchisio has cassettes to be built in a traditional way from hub specific sprockets and spacers. From 11 to 30 teeth nearly any imaginable configuration is possible.
The shifting performance is pretty good. Once adjusted you won't miss anything compared to other manufacturer's products.
And the weight? Our cassettes are not heavy. By all means we consider a cassette ratio adapted to the rider's demands and capability being way more valuable than a few grams that possibly could be saved. A 10 speed cassette is somewhat between 215 and 300 g depending on the sprockets chosen.
---
Refine Search